History
Siba was the first professional tyre collection company in the Netherlands. With a focus on innovation and environmental awareness, Siba soon grew to become the largest used tyre collection specialist in the Benelux countries. The foundations of the company lie in abject poverty but also in a strong entrepreneurial spirit and good vision.
Siba now has a rich history to draw on…
How it all started
The little shed in which Simon Bakker started up his tyre trading business on Osdorperweg near Amsterdam on 22 March 1961 is still there. After many years of hard slog, Siba finally got off the ground. However, this success did not come through selling new tyres, as had originally been envisaged. Instead, Simon had discovered that there was a real market for the collection of used car tyres.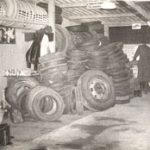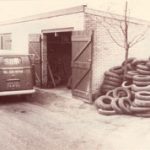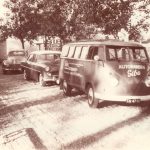 Simon Bakker primarily collected used car tyres from tyre service companies and garages. He then sold the majority of the tyres on to factories engaged in the retreading of old car tyres in Germany, Italy and Denmark. Some of the tyres were also sent to destinations far beyond the borders of Europe, where the standards for tyre treads were lower.
Large-scale collection
Used car tyres were generally collected and processed by small-scale businesses. The driving forces behind Siba – Simon Bakker and his wife, Greet – envisioned boosting the image of the car tyre and used tyre sector through an increase in scale. Siba's approach to the collection of used car tyres turned out to be a successful one.
The company continued to expand and in the mid 1960s, Simon relocated his tyre collection business to the site of a former riding school in the village of Wilnis (in the province of Utrecht). Just two years later, Siba had again outgrown its space and moved to a new address in the south of the Netherlands. In 1970, due to its central location, inexpensive land and sufficient numbers of workers, the new site was an ideal choice.
Huge growth
Siba had found a new home on an old farm in the village of Zeeland, located in the province of Brabant. Here, on pastureland, Simon had the space to continue trading in used car tyres. Over the course of the next 12 years, Siba grew to become a company employing six members of staff and commanding an ever-growing market share. In 1980, the company bought an old concrete factory located on Industrielaan in Uden, and this is where Siba is still based today.
Additional service
Steady progress was made on growing Siba's success in the 1980s and 1990s. The company's customer-oriented approach and the quality it delivered enabled Siba to develop into the professional organisation it still is today.
Between 1989 and 2016, Siba also had its own tyre service business, providing service and maintenance to the owners of private and company cars. From 2016 onwards, it was decided to fully dedicate this part of the company to its core business of collection and recycling once again.
For better or worse
In 1991, it seemed as if the company's good fortune had come to an abrupt end when a large fire destroyed the old concrete factory. However, instead of being reduced to hand-wringing, the Bakker family decided to get to work on rebuilding the company. This step later proved to have been fortuitous.
A new complex was built in 1992 and when, three years later, land was purchased from a neighbouring business, a huge area was added, bringing the total surface area occupied by Siba to no less than 32,000 m2.
Between 2002 and 2012, Siba also had a wholesale business that focused on selling new car tyres to car companies. Due to the huge amount of competition on this market, the decision was taken to shut down this wholesale business after ten years.
Professionalisation
Up until the early 1990s, car tyres would be thrown onto a pile in the corner of a garage, where they would stay until they were collected. They would then be loaded onto a truck by hand and unloaded, again by hand, on the company's premises. Rob (Simon and Greet Bakker's son) was sure there had to be a more efficient way of doing things. So he designed a container in which car tyres could be stored while still at garages and tyre service centres. A tilting system then made it easy for them to be transferred to Siba's trucks.
Siba was also the first company in the car tyre sector to realise that installing weighing systems on its trucks was the best way to eliminate the unreliable and time-consuming process of counting car tyres. This released customers from having to keep a tally of the number of tyres for collection, as the weight always gave an accurate number. It also meant that the details of the tyres collected were printed out straight away, with a copy given to the customer.
Siba also invented a compression system involving a forklift truck with clamps specially developed for Siba, using which the car tyres are compressed and then loaded into a container. This makes it possible to load twice as many car tyres into one container.
Innovation and investment
Siba has always invested a great deal in new ideas relating to the storage, loading and unloading of tyres and to the connecting up of conveyance equipment. Over the years, this has led to a huge scaling up of Siba's activities.
The company has gone from three to four people processing one truck full of tyres per day to the daily collection and processing of 10 trucks, each containing car tyres weighing 11,000 kg.

And from using tyre trolleys for 10 tyres to a clamping system for 40, and then on to a storage system using crates for approximately 100 tyres, stacked to a height of 7 metres.
Siba Recycling
Once Siba Recycling started up in 2005, Siba began shredding the majority of its car tyres and then sending them on to business partners in the granulation industry.
In 2017, Siba went on from shredding to further recycling processes, reducing car tyres to chips and steel. In this process, the steel is recovered from the tyres, which leaves small pieces of rubber with textiles, otherwise known as chips. Chips are an excellent product for the granulation industry, for pyrolysis and for incineration.
Siba believes in making sustainable investments and, thanks to ingenious innovations and smart solutions, the company has been able to continue to grow.